300Mbps PoE Ceiling Mount 11N Wireless Access Point with Gigabit Ethernet
The PLANET WNAP-C3220 is a stylish PoE Wireless Access Point featuring the latest wireless technology and unique ceiling-mount artistic design. It offers 300Mbps 802.11n wireless speed, multiple operation modes, Gigabit LAN connectivity and 802.3af Power over Ethernet features to increase client mobility and speed within a network. Sleek styling housing and ceiling mountable design makes the WNAP-C3220 blends unobtrusively into any ceiling or wall for various environments. This perfect product also creates a secure, cost-effective and highly scalable wireless LAN infrastructure. It is ideal for enterprises, hotels, hospitals and home users to extend wireless network coverage.
Ultra High Speed 802.11n Wireless
The WNAP-C3220 features latest IEEE 802.11n radio with 2T2R MIMO antenna technology to provide improved wireless speed and coverage with up to 300Mbps upload and download data rate. The incredible wireless speed makes it ideal for handling multiple HD movies stream, high resolution on-line game, stereo music, VoIP and data streams at the same time stably and smoothly. It is also backward compliant with 802.11g and 802.11b standards; thus it is no need to change the existing network for convenient maintenance. Just connect to the WNAP-C3220, you can immediately enjoy the high-speed wireless sharing.

Multiple Operating Modes
The WNAP-C3220 supports multiple wireless communication connectivity: wireless AP, wireless Repeater, WDS Point-to-Point (PtP) and Point-to-Multipoint (PtMP), allowing various applications that give users more comprehensive experience. It also helps users to easily build wireless network and extend the wireless range of existed wireless network.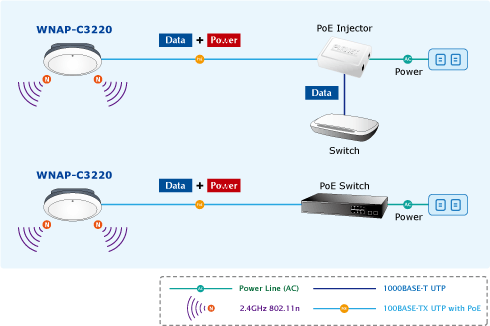 Advanced Wireless Security
In aspect of security, besides 64/128-bit WEP encryption, the WNAP-C3220 integrates WPA / WPA2, WPA-PSK / WPA2-PSK and 802.1x authority to secure and protect your wireless LAN. It provides the wireless MAC filtering and SSID broadcast control to consolidate the wireless network security and prevent unauthorized wireless connection.
Unique & Ceiling Mountable Design
Featuring attractive flying saucer appearance and ceiling mountable design, the WNAP-C3220 can be firmly adsorbed on the ceiling or the wall, which is easy and convenient in client-side installation. Its streamlined body without protruding antennas also gives effects of embellishment on the surroundings.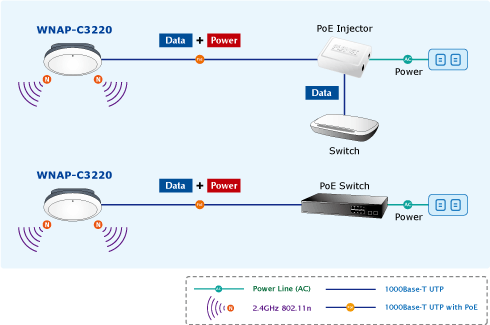 Flexible Deployment with PoE Feature
Compliant with IEEE 802.3af Power over Ethernet standard, the WNAP-C3220 can be powered and networked by a single UTP cable. It thus reduces the needs of extra cables and dedicated electrical outlets on the wall, ceiling or any other places where are difficult to reach. The wireless AP deployment becomes more flexible and worries free from the power outlet locations.
Compliance with Industrial Standard
  • Compliant with IEEE 802.11n wireless technology capable of up to 300Mbps data rate
  • Backward compatible with 802.11b/g standard
  • Gigabit Auto-Negotiation LAN port, compliant with IEEE 802.3/802.3u standards
  • Supports 802.3af standard-based PoE or local AC power

Secure Network Connection
  • Advanced security:
   –64/128-bit WEP
   –WPA-PSK / WPA2-PSK
   –WPA / WPA2 With 802.1x
  • Supports MAC Address Filtering Access Control to limit the connected wireless clients

Multiple Operating Modes, Multiple Mounting Options
  • Multiple operating modes including AP, Repeater, WDS Point to Point, WDS Point to Multiple Point
  • Sleek Stylish and Ceiling Mountable Design

Easy Installation & Management
  • Step by Step configuration with Intelligent Setup Wizard
  • User-friendly Web and SNMP-Based management interface
  • System status monitoring including Associated Client List, System Log

Products shipped by Planet Technology Corp. are covered by a return-to-base warranty period of 2 years (24 months), excluding Ethernet LAN Switch which is with 3-year warranty